Green Cab of Madison info, products & news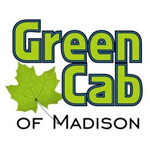 Green Cab of Madison is looking for responsible and reliable drivers who are motivated to succeed in business as a sustainable taxicab independent contractor.
We are a Madison Taxi Service with hybrid green taxi cabs in Madison Wisconsin.
Become a Green Cab Eco Driver, and actively contribute to the Green movement in Madison.
In additional, we are the finest in Madison- professional, courteous and competent and very safe.
Please get in touch with Green Cab of Madison from the Contact box on the right.
Green Cab of Madison Location
Green Cab of Madison Products
1 listed

Do you have an awesome driving record? Do you enjoy working with people? Are you familiar with Madison's streets and landmarks? If so, then Green Cab of Madison ... more »
Hybrid Cars –
Green Cars –
Green Transportation