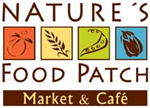 Nature's Food Patch Natural Market & Cafe (established in1987) is a popular community grocery store. We are dedicated to offering a wide variety of top quality organic and natural produce.
We stock north Pinellas County's largest array of organic produce, healthy bulk foods, groceries, meat, seafood, specialty alcohol, cheeses, olives, herbs, vitamins, pet supplies, unique housewares and natural body care.
Our deli is known for our fresh selection of international, natural food cuisine. In fact, you'll even find a salad bar, hot food bar and a juice bar in our cafe. We serve freshly blended juices, delicious smoothies and organic, fair trade coffee and tea.
Please get in touch with Nature's Food Patch Market & Café from the Contact box on the right.