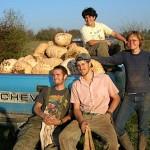 Product by:
47th Avenue Farm


With 17 years of prosperous, Sustainable Farming under their belts, 47th Avenue Farm is a fertile learning ground for those who are willing to work hard.
Their alumni have gone on to start their own farms and continue their agricultural careers with an enviable grasp of what it takes to farm successfully.
Are you a person with tremendous energy and enthusiasm for farming and tractors? And if you have the excellent experience that they're looking for, please kindly take a look at the positions they currently have open, Farm Crew Members Green Job.
They will be hiring several Farm Crew members Green Job for the 2013 season.
Applicants with former agricultural experience will be prioritized, however all hardworking and motivated individuals will be considered.

For more information, download the Farm Crew Member Application Packet, which also includes an application form.
Applications due: Open until filled

Are you the one that they are looking for? Apply now and Join them!
Please use the Contact form on the right for Farm Crew Members Green Job information and ordering.