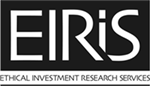 Ethical Investment Research Services (EIRIS) Ltd. is an independent, not-for-profit organization; they work to help their clients develop the market in ways that benefit asset managers, investors and the wider world.
They have more than 100 institutional clients including pension and retail fund managers, private client brokers, banks, charities and religious institutions throughout Asia, USA and Europe.
They bring 30 years of sustainable responsible investment experience and combine an understanding of ESG issues with knowledge of corporate practice and experience of practical solutions.
Their sector-based research teams provide in-depth coverage of about 3,000 green companies globally, covering for more than 100 different environment, governance and social issues.
They also publish a range of printed and online resources to help consumers, charities and financial advisers green invest responsibly.
A recent addition to the Ethical Investment Research Services (EIRIS) Ltd. global research platform is Conflict Risk Network, which provides suitable, reliable and focused information on corporations operating in Sudan.B might enable human rights abuses that lead to genocide and mass atrocities.
Their mission is to encourage responsible investors with independent assessments of companies and advice on integrating them with eco investment decisions.
Please get in touch with Ethical Investment Research Services (EIRIS) Ltd. from the Contact box on the right.