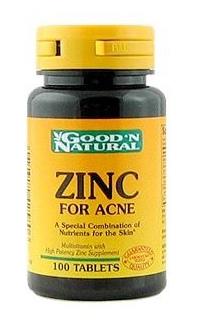 Product by:
NutriPlusTea


One of our most popular organic skincare supplements here at Nutri Tea is our Zinc supplements developed for those with acne and skin problems.
Studies have shown that the complex interactions of hormonal activity, immune system response, sebum production and inflamed skin - all causes of acne - may be improved by zinc.
In fact, zinc is important for healthy living as it plays a role in over 200 enzyme reactions in our bodies. Zinc is also very helpful when it comes to acne, as it helps with not only immunity, but with the transportation of Vitamin A - important for skin along with zinc playing a role in the normal functioning of the oil secreting cells of the skin our skin.
Adequate zinc levels are very important as it helps with normal skin healing and hormonal regulation.
For the average person, we recommend eating a whole foods diet complete with a large selection of unrefined grains, lean protein, vegetables, nuts and seeds.
Our zinc supplements should only be taken with care and caution.
Foods that are high in zinc include: oysters, red meat, wheat bran, wheat germ, shellfish, pine nuts and brazil nuts.
Please use the Contact form on the right for Zinc Supplements for Acne information and ordering.