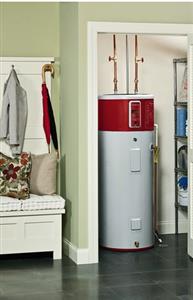 Product by:
Greensource.construction


GreenSource is an Eco Magazine featuring Sustainable Design. One of our favourite articles is our list of Top Green Construction Materials. This is perfect for those thinking of building a new house but our list also features some great idea that you can easily incorporate into your current home.
Atlas Block CMU
The CarbonCure Block System takes carbon dioxide from local industrial sources and injects it into concrete masonry units (CMUs).
This process not only lowers the carbon footprint, but also improves their strength, increases their curing process and reduces their portland-cement content.
Hybrid Heater (pictured)
GEs has redesigned 50-gallon GeoSpring water heater. It now has an energy factor of 2.35 in hybrid mode and has a first-hour rating of 63 gallons.
Among stand-alone heat-pump water heaters, it is the quietest, at just 55 dB.
Cork Insulation
This insulation is not only 100% natural cork but the material has also been steam-heated under pressure. This means that expanding the cork granules and activates a natural binder - suberin - and that will hold them together.
No additional chemicals are used and most are from forests and woodlands that are are FSC-certified.
The durable material insulates to R-3.6 per inch. It offers acoustic control, moderate vapor permeability and also meets all normal fire-safety requirements.
Please use the Contact form on the right for Top Green Construction Materials information and ordering.