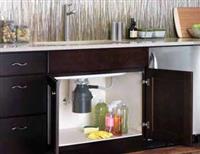 Product by:
L.I.S. Custom Designs, Inc.


Sustainable Polymer Sink Base is made of acrylic polymer interior that is waterproof and will surely last longer than you expect.
This can hold up to 2 gallons of liquid in any kind.
The cabinet in the bottom is inclined five degrees towards the front of the cabinet giving it a hefty stand.
This has ridges in the bottom that will keep your stored items from damage if ever there's a leakage as well.
Front-side of the cabinet was constructed with the same wood used in cabinetry.
It comes in a wide variety of door styles, solid woods and clean finishes.
Sustainable Polymer Sink Base is perfect for rental and commercial purposes.
Please use the Contact form on the right for Sustainable Polymer Sink Base information and ordering.