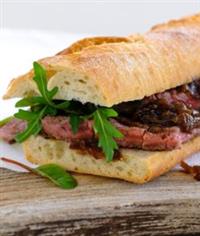 Product by:
Wyoming Pure Natural Beef


Here at Wyoming Pure, we are a small family business and we are dedicated to promoting sustainable Agriculture. We specialise in selling beef directly to our community.
We have been raising certified organic wheat and other small grains for many years, We also have a famous range of certified organic cattle - all natural with zero artificial chemicals.
Our ranch is certified organic through a U.S.D.A. certifying agency.
Our favourite way to enjoy our certified organic beef is with a sandwich - simple, classic and delicious.
In fact, our steak sandwich is a favourite among our Farm. It's extra tasty when all the ingredients used are fresh, local and of course, organic.
To make our famous steak sandwich, you will need: six scotch fillet steaks - trimmed, olive oil cooking spray, six rashers rindless bacon - halved, twelve slices of bread that is toasted, a third of a cup of barbecue sauce, a bunch of salad leaves and some homemade french fries to serve.
To make this, you'll need to preheat a grill on high heat. Spray both sides of steaks pieces with the oil and season with salt and pepper to your desire.
Place steaks on grill and cook for two to three minutes per side for medium. Of course, you can cook to your liking.
While the steaks are cooking, add bacon to grill and Cook for 1 to 2 minutes each side, until the bacon slices are crisp.
Place the slices of toast on a chopping board and spread them with barbecue sauce. You can top each with the salad leaves, steak and bacon and serve with french fries.
Please use the Contact form on the right for Steak and Bacon Sandwich Recipe information and ordering.