Simple Smock Fish Flower Eco Kohl Product details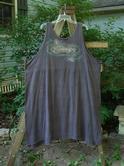 Product by:
Bluefishfinder


At the affordable cost of eight-five dollars, this Simple Smock Fish Flower Eco Kohl is Eco Clothing from the Summer Transitional Collection of 1994 in Kohl is a new arrival in June 2014.
It is a good size and is in good condition in Good Size 1 Condition with a medium uneven Fade. Crafted from 100% Mid Weight Cotton and the colours are completely true to the pictyres.
This rare and desirable over piece features include: sectional vertical panels, deeper arm openings, a super widening shape and a varying hemline and fabulous fish and flower theme paint.
Please use the Contact form on the right for Simple Smock Fish Flower Eco Kohl information and ordering.