Organic Wheat Grass Powder Health Product details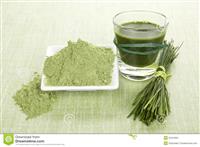 Product by:
Dhanashree LLC


Organic Wheat Grass Powder Health benefits by our Health Food Products' users. Organic Wheatgrass is proven beneficial like a Naturopathic Medicine Alternative Therapy product particularly in cleaning digestive tract or blood circulation related dieases such like Thalassemia syndrome, nutritional anaemia, Diabetes and Obesity etc.
We are a Family owned Green Business Company, specialized in Wheat Grass Natural Therapy. We have been producing Organic Wheatgrass since 1998 on our own Certified Organic Farm and started commercial promotion of Wheat Grass Powder in the year 2005.
As a natural antioxidant, use of Wheatgrass Powder helps eliminate harmful chemical substnces from human body which can be observsed visually from the change of urine regarding its colour and odour. By taking Wheat Grass Powder daily that you can quickly see the results in a few weeks.
Please use the Contact form on the right for Organic Wheat Grass Powder Health information and ordering.