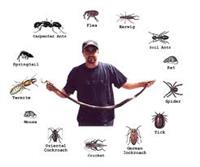 Product by:
Alchemy Pest Control


Alchemy Pest Control unique sustainable yard pest control treats deep into your lawn and mulch where sprays and foggers can't reach.
This is more efficient because it treats where ticks and fleas live and breed rather than on top of your lawn where pets and children play.
This distinctive Organic Pest Control Treatment is activated by moisture.
The harmful pests will be eliminated as soon as it rains or you water your lawn.
Note: Pets and children should stay off your lawn until the lawn dries.
Organic Pest Control Treatment will keep harmful pests out of your lawn for 60 days.
Treatment Plan:
March and April - Adult ticks are a huge problem in early spring.
These are easier to see than baby ticks.
May and June - Late spring is a new generation of small ticks emerges.
These are more difficult to see and are dangerous because they can go unnoticed.
July and August - The hottest time of the year brings out ants and crickets in a big way.
September and October - The flea season starts in late summer and lasts through December.
Remember to get your treatment in early fall.
Please use the Contact form on the right for Organic Pest Control Treatment information and ordering.