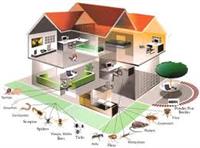 Product by:
AJ Southwest


AJ Southwest Organic Pest Control Service provides a very affordable, full-service pest control for homes and businesses.
If you're using green gardening techniques, but still using severe chemicals for pest control, you need to take a close look at the services they provide.
They use organic plant oil extracts that are harmful to insects, but not to pets or people.
The initial Organic Pest Control Service is a thorough inspection of the house.
They will provide some or all of the following services inside the home depending upon your current needs.
They could dust the attic, entries, exits, and plumbing voids; spray certain areas; or bait for various pests.
The perimeter of the house will be power sprayed along the foundation and to a distance of ten feet away from the foundation.
Weep holes will be dusted or wasp nests removed and treated at your request.
Future quarterly trips consist of a power spray along the perimeter of the house and to a distance of 10 feet away from the substance, dusting the weep holes, and inspection for termites and many other pests.
If ever you experience a problem with the covered pests, they provide unlimited retreat service inside a no additional charge, Rodents are a covered pest, but if needed bait stations are placed for an additional one time charge.
Please use the Contact form on the right for Organic Pest Control Service information and ordering.