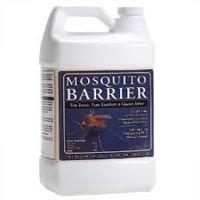 Product by:
All Natural Lawns and Landscape, LLC


When you initially spray Organic Mosquito Barrier it kills the mosquitoes and chases away the ticks, fleas and gnats.
In just one spraying of all natural, liquid garlic-based Organic Mosquito Barrier will keep mosquitoes
out of your yard and away from your home, 24hours a day for nearly a month.
It is odorless to humans, but not to the insects!
It coats the leaf surface of the grass, lower leaves of the trees and ornamentals with natural sulfur contained in garlic juice and all of these insects, not initially killed, are repelled from the area by this juice.
It also prevents entry of any neighboring mosquitoes that may consider wandering in from next door.
This product is made from 99.3% organic Garlic and 0.7% preservative.
Please use the Contact form on the right for Organic Mosquito Barrier information and ordering.