Model 1100 - Automatic Purification System Product details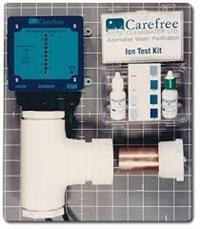 Product by:
Carefree Clearwater


If you want a great Water purification system with simple to use controls, a plug in operation and a warranty that lasts a life time, look no further than the Model 1100 - Automatic Purification System.
This system includes a whole variety of great features. Some of them include a variable power output that you can use for spas and pools, as well as electronic circuitry multiple fuse protection.
It also consists of light emitting diodes Display Power Output Range, Anode Condition and Polarity. For more details on this Water Management system, please contact us through the form on the right hand side of this page.
Please use the Contact form on the right for Model 1100 - Automatic Purification System information and ordering.