Matthew Cochran Product details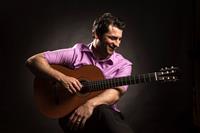 Product by:
Sentient Bean Coffee Shop


Matthew Cochran is a great singer, songwriter, and guitarist whose music eschews categorization.
A recovering classical musician, in his latest popular songs reveals intense true love of American roots music and the American literary tradition from Faulkner to Cormac McCarthy.
Soundboard Magazine has praised his breathtaking ability to highlight his clear, light tone with intricate accompaniments on guitar.
Matthew Cochran's new album "Vapor Trail from a Paper Plane" features plenty of blazing guitar playing and jaw-dropping vocals (see "Jesus Loves Belinda" and "Catch McQueen") alongside soulful ballads like "Roadside Attraction" and the lush Lullaby for Sammy".
Please use the Contact form on the right for Matthew Cochran information and ordering.