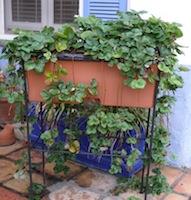 Product by:
Two Dog Organic Nursery


Green Organic EarthBox Garden Kit contains all you will need for a bountiful harvest. The Organic Kit comes with easy Planting instructions and a set of excellent casters, so the boxes can be easily moved under sunlight or shade area, or inside home or outside garden.
The EarthBox contains the Dolomite Lime (calcium) which is Certified Organic Plant Food, the necessities that all plants will require, adequate for all seasons. There are also water tubes and 3 plastic mulch covers that to aerate the water and soil. It is 29" L x 13.5" W x 11 H in size. Our kit comb also provide you three bags of our Black Gold Waterhold Potting Soil. The water reservoir is able to hold massive water about three gallons.
Once you begin gardening in the EarthBox, you will definitely want more of them. They're practical, tidy and building resource-saving type of Garden Tips. With low profile and nice exterior, you can place it on anywhere you want in your back yard.
Please use the Contact form on the right for Green Organic EarthBox Garden Kit information and ordering.