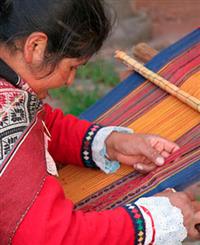 Product by:
Lucuma Designs


Here at Lucuma Designs, we began our humble beginnings in 1998. Since we started, we have been actively been supporting the work of over 280 talented artists from less fortunate countries.
Many of them are women working from 15 small family workshops and cooperatives in Peru.
We love to build our business relationships based on mutual respect and trust. These two facts are the core of what we do as we collaborate with our Peruvian artist partners to create beautiful pieces of artwork and opportunities for the long run.
To us, Fair Trade means caring about people and the planet before our own profits. This will mean a more sustainable business - but for our community and our planet.
We are here not only to make a positive change to millions of artisans and farmers, but also because we believe in a world where everyone has the opportunity to prosper and live with dignity.
We believe it's easy to reduce the inequality in the world with simple things like shifting part of our spending into socially responsible and fairly traded products.
Please use the Contact form on the right for Fair Trade Products from Peru information and ordering.