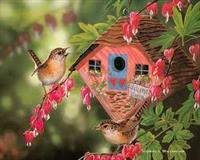 Product by:
All Wood Birdhouses


Eco-friendly Wren Houses are cheerful little bird houses that look beautiful hanging in your garden or patio.
Birdhouses sustainable wren house styles feature two eye bolts for secure hanging, splintered roof shingles, cedar wood construction, rear viewing door and rear window.
Eco-friendly Wren Houses make great gifts and can be delivered right to the front door of a friend or relative. It is guaranteed to satisfy and are the finest sold on the Internet. Do you have Special Request? Put in a special order for a hanging wren house today.
We will match your exact desires for color, style, dimension, and functionality. If your yard has a unique style, hanging a stunning wren house is sure to serve as the perfect compliment and add that final touch.
It has variety of styles, brightly painted, plain, unfinished, conservative, natural finish, and a lot more.
Please use the Contact form on the right for Eco-friendly Wren Houses information and ordering.