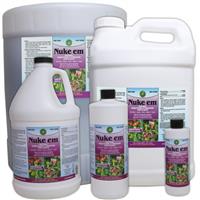 Product by:
Everwood Farm


Everwood Farm is established in 1989, we are a family owned and operated. Our Eco Green Nuke is OMRI listed merchant and Environmentally Friendly Pest Control products in Willamette Valley, Oregon. Our mission is to provide affordable and Sustainable Organic and Organic Pest Control products and solutions for agricultural, farm, ranch and home owners.
Eco Green Nuke is an effective Organic Insecticide, which is also Miticide and Fungicide. Insects, Mildew and obstinate mold cannot become immune to our product's effects.
The unique formula of it is comprised of 100% food grade ingredients and Chemical Free Insect Repellent that are commonly found in every day food products. So you can stay away from respirators, protective suits, and concerns about the health and safety of pets and loved ones.
Please use the Contact form on the right for Eco Green Nuke information and ordering.