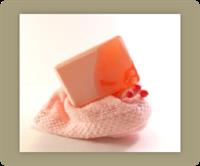 Product by:
Cupertino Soap Company


Cupertino Eco Handmade Natural Soap is a small family owned business, and we are proud to offer you high quality Chemical Free Soaps and Aromatherapy Soaps products. We put our heart and soul into each Eco Friendly Soap that we make by hands. We care very much about making All Natural Soaps products for your body and we concern about our environment too.
We work hard to be a Green Company so that we test everything on ourselves and there are no animals' experiments. We hope you enjoy shopping on our Herbal Soap, Goat Milk Soap and Lavender Soap in our online store.
Most of our Handmade Natural Soaps are Vegan Products and vegetarian friendly. Most of our Handcrafted Soap contain shea butter, cocoa butter, hemp seed oil, and olive oil. Some contain Goat Milk. They are all Natural and do not contain harsh chemicals.
We care about your health and the health of the planet. We test all our products on ourselves before we sell it, it's that natural and safe. Be good to yourself and the planet use Natural Soaps.
Please use the Contact form on the right for Cupertino Eco Handmade Natural Soap information and ordering.