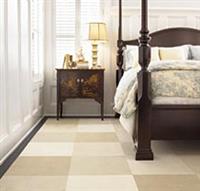 Product by:
Greenstrides


GreenStrides is about green homes and design. One of our most recent blog post is about ways to achieve a cleaner atmosphere for you bedroom. Our blog is a great resource those who are interested in making their homes healthier and more eco friendly.
In most cases, a bedroom should be peaceful a calm - a place where you can relax. As we spend about 33% of our lives in our bedrooms, it is important that the air quality is as clean and healthy as possible.
There are many things that can affect the air quality of your bedroom - but there are also many things that you can do. It all starts from good ventilation to choosing furnishings and finishes that don't give off harmful chemicals such as:
Paint:
Try to go for anything that is non-toxic or clay plaster. They don't contain any volatile organic compounds has long term adverse effects health.
Window treatments:
Studies have shown that non-permanent press draperies and shades made that are made from organic and natural materials will minimize off-gassing of chemicals into your bedroom.
Mattresses:
A comfortable and eco-friendly option is one made from natural rubber latex mattress. These are treated with quality non-toxic fire retardants. They also do not emit formaldehyde and VOCs - unlike conventional mattresses. Try to look for Organic Cotton Bedding covers to protect your mattress.
Furniture:
When it comes to furniture, look for solid wood, reclaimed wood furnishings and Sustainable Wood Furniture. Be sure that they are finished with non-toxic wood stain. Anything that contains pressed wood is a no-no as they contain formaldehyde.
Ambiance:
Soy based candles are among our favourite products when it comes to ambiance. Not only do they burn longer, but they also burn cleaner. Soy based candles produces up to 90 per cent less soot than paraffin. This will reduce the amount of air pollution produced in your bedroom.
Please use the Contact form on the right for Cleaner Atmosphere for your Bedroom information and ordering.