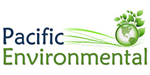 We are leaders in providing environmental compliance products in America. Not only that, but we are also the fastest growing company.
This includes anything from absorbents, spill kits, products for spill containment, storm water management, to erosion control and facility protection.
As a team, we are passionate and focused on what we do. We are dedicated to keeping you up to date with upcoming environmental compliance laws. We are also committed to ensuring you have the best and the right products at the lowest cost.
We also make it a priority to support our American industry by seeking out American manufacturers of quality products.
Please get in touch with Pacific Environmental Inc. from the Contact box on the right.