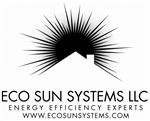 Eco Sun Systems LLC provides eco-friendly customized solutions for residents who want to cut their power costs and do their part to help the environment.
We believe that providing customers with great satisfaction is the only acceptable way to do business.
Our goal is to help your home or business to be as efficient as possible in its use of energy.
If you need help for green Phoenix energy efficiency, the right company to call is Eco Sun Systems LLC.
With our help you'll see expressive savings in your power bills, and you'll know you're doing something great for the environment.
We use proven sustainable products and services, and we can give your home an energy makeover that will produce immediate benefits.
Please get in touch with Eco Sun Systems LLC from the Contact box on the right.