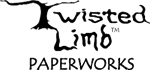 We are a handmade paper invitations company and our products are guaranteed to delight, inspire and enchant your guests into another world of wonder, amazement and magic.
Our goal is simple - we want to create content with the material goods for everyday life which are time-functional, beautiful, and meaningful. We're all about celebrating life's many events, from weddings to christenings to simple things like the daily magic and joy we tend to forget.
Twisted Limb is a sustainable company. Our products are created using 100% recycled handmade paper. We're also been encouraging eco friendly celebrations such as earth-friendly weddings since 1998.
We are among the first few companies in America to have recycled handmade paper and we are the first to offer 100% recycled invitations. Today, we're still leaders in this field and we're always looking for new ways to improve.
Please get in touch with Twisted Limb Paperworks from the Contact box on the right.