Heart Beet Gardening info, products & news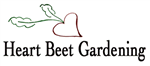 Our mission is to foster Organic Vegetable with consideration of food security and sustainable land-use in the Los Angeles area. We design, build, and maintain gardens from small kitchen gardens to edible landscapes and unique needs of each family through programs in urban agriculture and ecologically sound landscaping.
We help you reduce your ecological footprint and we provide you the tastiest, freshest, and most local produce by enabling households to grow their own food in the back garden. Our ecological design and planting pattern is health and green, without any chemical pesticides or fertilizers.
We also popularise our eco gardens for schools and communities. We are working towards community agriculture programs such as a community composting project and a plant and seed exchange.
Please get in touch with Heart Beet Gardening from the Contact box on the right.
Heart Beet Gardening Products
1 listed

Heart Beet Organic Gardening will design, install, and maintain organic vegetable gardens and eco-friendly edible landscapes for private homes and communities in ... more »
Sustainable Gardening –
Organic Gardening –
Ecofriendly Gardening