Save the Whales info, products & news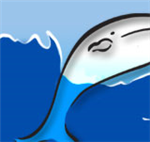 We are a nonprofit educational organization and have been operating since 1977.
Our purpose is to educate and teach our children and adults about marine mammals, their environment and the importance of their preservation.
We were founded by Maris Sidenstecker - who was 14 years old at the time.
We believe in children and how they will affect the future of our planet. We believe that they need to be empowered and know that their actions and what they do can promote change for their future. Education is the key to saving whales, our oceans, our future and ourselves.
Please get in touch with Save the Whales from the Contact box on the right.
Save the Whales Location
Save the Whales Products
1 listed

True Blue friend Eco friendly Book is a thoughtful book that introduces your children 4 to 6 years of age to the wonderful world of whales.... more »
Animal Rights –
Book Reviews –
Endangered Species