iReuse info, products & news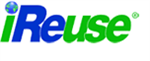 iReuse aims at offering our expertise in operating a wide variety of sustainability programs, such as energy efficiency plan, resource conservation, waste and carbon emissions reduction, sustainability planning and tracking and reporting, and green procurement.
Our service is to provide organizations with a clear sustainability road map and comprehensive and transparent programs to achieve measured results.
To keep our products and services at the cutting-edge of sustainability innovation and leadership is our vital mission.
Please get in touch with iReuse from the Contact box on the right.

Every day, your business is wasting precious resources as well as energy, water, fuel, and materials.... more »
Building –
Buildings –
Business